Dorsett Grand Subang
Embark on an unforgettable epicurean journey with the award winning Chefs of Dorsett Grand Subang. Titillate your tastebuds with an irresistible range of local delights, Western specialities to Muslim friendly soul food and dim sum. Order your favourites today and begin a true food adventure in the comfort of your office or at home.

Dine like The Emperor. Deliveries/Self Collect/In-Room Dining is available from 12 noon to 2.30 pm and from 6 pm to 10 pm (last order 9 pm).
All other items are available from 11 am to 11 pm (last order 10 pm) except for Cakes and Breads, subject to availability.


---
Type
All
Beverages
Bread
Cakes
Cookies
Daily Deli
Favourites
Mains
Meat-Free
Pasta
Pizza
Salad
Small Bites
Soup
Sweets
The Emperor
All Products
Hot Coffee
RM 19.2
RM 24.00 -20%
Chilled Mango Juice
RM 13.6
RM 17.00 -20%
Chilled Guava Juice
RM 13.6
RM 17.00 -20%
Fresh Orange Juice
RM 17.6
RM 22.00 -20%
Veggie Roll (3 piece)
Homemade vegetarian spring rolls with Vietnamese mint and chili dip
RM 19.2
RM 24.00 -20%
Dorsett Wings (3 piece)
Deep-fried chicken wing marinated with garlic, lemongrass and onion
RM 19.2
RM 24.00 -20%
Loaded Potato (2 pieces)
Baked potato skin topped with mildly spicy minced chicken and melted cheese
RM 20.8
RM 26.00 -20%
Otak-Otak Muar (4 pieces)
Deep-fried fish otak-otak served with pickled vegetable
RM 20.8
RM 26.00 -20%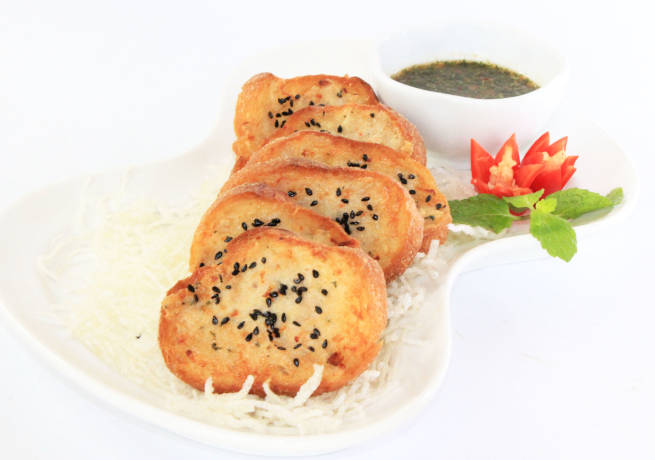 Mekong Bread Toast (6 pieces)
Deep-fried bread stuffed with chicken & seafood paste served with mint chili dip
RM 22.4
RM 28.00 -20%
Dorsett Mixed Platter
Chicken Wings (2 pieces ), Veggie Roll (2 pieces), Otak Otak ( 2 pieces ) and Mekong Bread Toast ( 2 pieces ) served with Chili Dip
RM 30.4
RM 38.00 -20%
Soto Madura
Indonesian chicken broth infused with traditonal herbs
RM 20.8
RM 26.00 -20%
Dorsett Mushroom Soup
Cream of shiitake and button mushrooms served in a hollow bun
RM 22.4
RM 28.00 -20%
Tom Yum Goong
Thai spicy and sour prawn soup infused with lemongrass & kaffi Leave
RM 25.6
RM 32.00 -20%
Oxtail Soup
Oxtail broth traditional style
RM 28.8
RM 36.00 -20%
Mesclun Salad
Mix garden salad tossed with choice of thousand island, Italian, French or vinaigrette dressing
RM 19.2
RM 24.00 -20%
Nicoise Salad
Black & Green Olives, French Bean ,Tuna , tomatoes and hard-boiled egg toast with French dressing
RM 20.8
RM 26.00 -20%
Caesar Salad
Romaine lettuce tossed with Caesar dressing and croutons, sprinkled with grated Parmesan cheese
Add on
:
- Grilled Cajun Chicken
- Smoked Salmon
RM 22.4
RM 28.00 -20%
Classic Fish and Chips
Deep-fried snapper fillet served with French fries, fresh garden green salad, coleslaw and tartar sauceand chili dip
RM 38.4
RM 48.00 -20%
Char-Grilled Spicy Teriyaki Chicken Chop
served with French fries and roasted vegetables
RM 38.4
RM 48.00 -20%
Pan-Fried Salmon
served with lemon butter cream and pomelo sauce, mashed potatoes and roasted vegetables
RM 54.4
RM 68.00 -20%
Char-Grilled Lamb Cutlets
served with garlic mash potatoes, roasted vegetables and home=made mint sauce
RM 70.4
RM 88.00 -20%
Char-grilled Australian Rib Eye Steak (220gm)
served with French fries, roasted vegetables and forest mushroom sauceserved with mint chili dip
RM 78.4
RM 98.00 -20%
Char-grilled Australian Beef Tenderloin (220gm)
served with French fries, roasted vegetables and Sarawak black pepper sauce
RM 94.4
RM 118.00 -20%
Char-Grilled Lamb Kebab Skewer
served with Mandi rice, salad with mint and lemongrass cream dressing and grilled vegetables
RM 54.4
RM 68.00 -20%
Old Style Hainanese Chicken Chop
marinated deep-fried chicken with onion and green peas potato gravy served with French fries and vegetable
RM 38.4
RM 48.00 -20%
Margherita
Tomato based pizza topped with sliced tomatoes, basil leaves and mozarella cheese
RM 26.4
RM 33.00 -20%
Mahalo
Tomato based pizza topped with smoked chicken, pineapple and mozzarella cheese sauce
RM 30.4
RM 38.00 -20%
Pepperoni
Garlic and tomato based pizza topped with beef pepperoni, pineapple, fresh herbs, chilli flakes, parmesan and mozzarella cheese
RM 32
RM 40.00 -20%
Smoked Salmon
Tomato based pizza topped with smoked salmon, basil leaves and mozzarella cheesewith French fries and vegetable
RM 33.6
RM 42.00 -20%
Aglio e Olio
A choice of spaghetti, fettuccine or penne cooked with olive oil, garlic and dried red chili flakes
RM 22.4
RM 28.00 -20%
Bolognaise
A choice of spaghetti, fettuccine or penne served with minced beef with tomato based sauce infused with garlic, onions and Italian herbs
RM 30.4
RM 38.00 -20%
Alfredo
A choice of spaghetti, fettuccine or penne served with smoked chicken slice with a cream based sauce
RM 27.2
RM 34.00 -20%
Marinara
A choice of spaghetti, fettuccine or penne served with assorted seafood alongside a tomato based sauce infused with garlic, onions and basil
RM 36.8
RM 46.00 -20%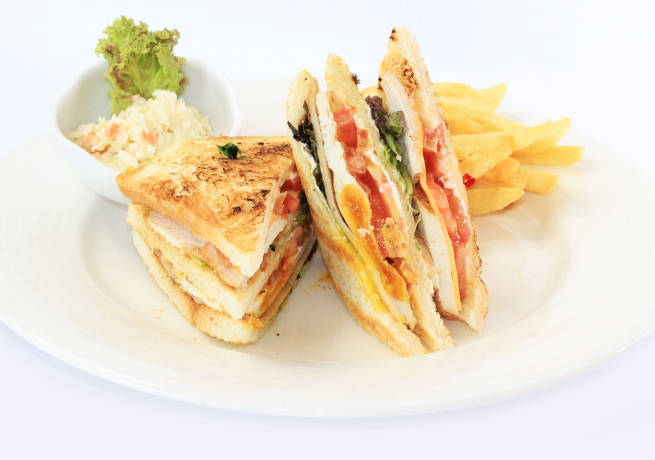 Dorsett Club Sandwich
Smoked chicken breast, grilled turkey slice and fried egg served with a side of coleslaw and French fries
RM 30.4
RM 38.00 -20%
Healthy Double Cheese Burger
Sesame green tea bun with char-grilled beef or chicken Pattie, sautéed onions, gherkin and melted cheddar cheese with a side of coleslaw and fries
RM 36
RM 45.00 -20%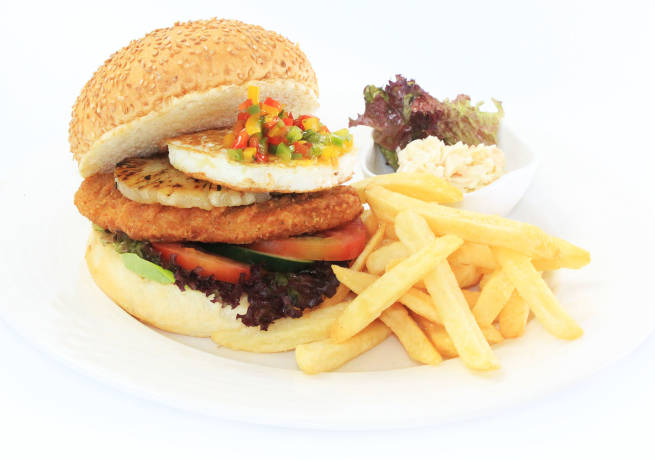 Aloha Chicken Burger
Crispy chicken pattie with grilled pineapple topped with egg and tomato salsa sauce served with fries and coleslaw
RM 32
RM 40.00 -20%
Dorsett French Toast
Smoked chicken toast with cheese sandwiched and coated with egg. pan-fried till golden brown. Served with French fries and coleslaw
RM 30.4
RM 38.00 -20%
Grand Mee Mamak
Yellow noodle stir-fried with Chef's secret sauce, chicken, squid, prawn fritter, bean curd, bean sprouts, choy sam and egg topped with marinated tiger prawn
RM 27.2
RM 34.00 -20%
Dorsett Char Kway Teow
Flat rice noodle fried with chicken, prawn, squid, bean sprouts, egg and chives
RM 24
RM 30.00 -20%
Hainanese Chicken Rice
Roasted or boiled chicken served with homemade fragrant rice and clear chicken broth
RM 24
RM 30.00 -20%
Nasi Lemak
Coconut infused rice served with ayam goreng berempah, squid sambal, hard-boiled egg, fried anchovies, roasted peanuts and cucumber
RM 30.4
RM 38.00 -20%
Cantonese Noodle
Stir-Fried your choice of noodle -flat rice noodle ,meehoon, wantan noodle or Yee Mee in Egg Gravy Sauce with prawn, chicken, squid and choy sam
RM 24
RM 30.00 -20%
Nasi Goreng Dorsett
Fried rice accompanied with chicken wing , pickled veggies, prawn crackers and fried egg
RM 25.6
RM 32.00 -20%
Signature Nasi Biryani Gam
Fragrant Malay rice served with chicken or lamb accompanied with lentil curry and pickled fruit
RM 38.4
RM 48.00 -20%
Satay by the dozen
Traditional char-grilled chicken or beef skewers served with spicy peanut sauce, compressed rice, onions and cucumber
RM 36.8
RM 46.00 -20%
Chinese Style Macaroni
Stir-Fried macaroni with diced chicken & prawn with red &green pepper and onion
RM 24
RM 30.00 -20%
Sweet and Sour Chicken
Vegetarian chicken served with steamed rice, pickled veggies, vegetable cutlet and papadom
RM 24
RM 30.00 -20%
Stir-fried Noodle
Flat rice noodle fried with bean curd, mushroom, capsicum, carrot and bean sprout
RM 24
RM 30.00 -20%
Braised Bean Curd
Braised soy bean curd with mushroom, sweet beans, cauliflower and carrot served with steamed rice
RM 24
RM 30.00 -20%
Meat Free Burger
served with French fries and side salad
RM 22.4
RM 28.00 -20%
Mixed Fruit Platter
Mango jelly served with plain yoghurt, cream, coconut milk and fresh mango
RM 17.6
RM 22.00 -20%
Sago Gula Melaka
Sago served with palm sugar, coconut milk, strawberries and coconut ice cream
RM 17.6
RM 22.00 -20%
Creme Brulee
Chilled creme brulee topped with fresh berries
RM 20
RM 25.00 -20%
Chocolate Brownie
Warm chocolate walnut brownie topped with Vanilla ice cream and chocolate sauce
RM 20
RM 25.00 -20%
Cendol with Coconut Ice Cream
Iced sweet dessert of green rice flour jerry, coconut milk and palm sugar syrup
RM 17.6
RM 22.00 -20%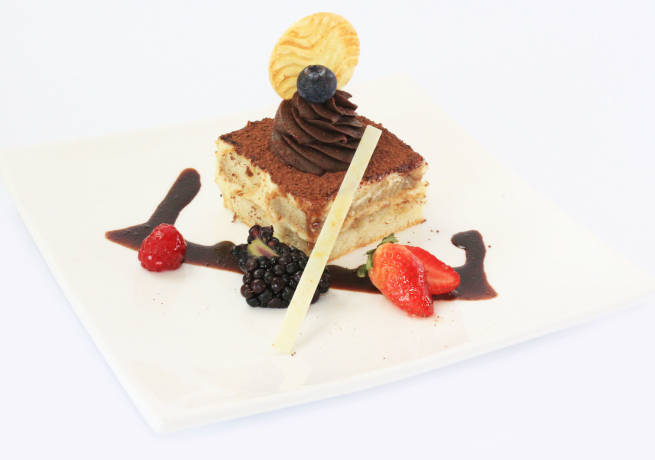 Tiramisu
Layered vanilla sponge cake with coffee syrup, mascarpone cheese, buttercream and chocolate sauce
RM 20
RM 25.00 -20%
Cheesecake
Baked cream cheese with cookie crumble base drizzled with raspberry sauce
RM 20
RM 25.00 -20%
Red velvet cake 1kg
RM 104
RM 130.00 -20%
Plain cheese cake 1kg
RM 104
RM 130.00 -20%
Chocolate chip cheese cake 1kg
RM 104
RM 130.00 -20%
Chocolate moist cake 1kg
RM 104
RM 130.00 -20%
Carrot cake 1kg
RM 104
RM 130.00 -20%
Chocolate brownies cake 1kg
RM 104
RM 130.00 -20%
Sliced Chocolate Cake
RM 10.4
RM 13.00 -20%
Sliced Cheese Cake
RM 10.4
RM 13.00 -20%
Sambal Cookies
RM 20
RM 25.00 -20%
Chocolate Chip Cookies
RM 20
RM 25.00 -20%
Chocolate Cookies
RM 20
RM 25.00 -20%
Sugar Friendly Chocolate Chip Cookies
RM 20
RM 25.00 -20%
White bread  @ 1kg
(30 slices per loaf)
RM 6.4
RM 8.00 -20%
Wholemeal bread @1kg
(30 slices per loaf)
RM 7.2
RM 9.00 -20%
Sovital bread @ 500gms
RM 6.4
RM 8.00 -20%
Iced Milo
RM 9.6
RM 12.00 -20%
Farmer bread @ 500 gms
RM 6.4
RM 8.00 -20%
Iced Latte
RM 9.6
RM 12.00 -20%
Olive bread @ 500gms
RM 6.4
RM 8.00 -20%
Nescafe Ice
RM 9.6
RM 12.00 -20%
Multi - Grain bread @ 500gms
RM 7.2
RM 9.00 -20%
Iced Lemon Tea
RM 9.6
RM 12.00 -20%
French Baguette @ 400gms
RM 6.4
RM 8.00 -20%
Sweet & Sour Chicken with Egg Fried Rice
Serves 1 to 2 persons
RM 38.4
RM 48.00 -20%
Sichuan Style Hot and Sour Soup
(Serves 1-2 persons)
RM 20.8
RM 26.00 -20%
Sweet and Sour Fish with Egg Fried Rice
(Serves 1-2 persons)
RM 38.4
RM 48.00 -20%
Stir-fried Kung Po Chicken with Egg Fried Rice
(Serves 1-2 persons)
RM 20.8
RM 26.00 -20%
Wok-fried Tiger Prawns with Salted Egg Yolk and Butter Milk, served with Egg Fried Rice
(Serves 1-2 persons)
RM 52
RM 65.00 -20%
YangZhou Fried Rice with Shrimp and BBQ Chicken
(Serves 1-2 persons)
RM 20
RM 25.00 -20%
Steamed Siew Mai Emperor Style (3 pcs)
RM 12
RM 15.00 -20%
Steamed Prawn Dumpling with Coriander (3 pcs)
RM 12
RM 15.00 -20%
Steam BBQ Chicken Bun (3 pcs)
RM 10.4
RM 13.00 -20%
Steamed Glutinous Rice with Chicken and Black Mushroom
RM 9.6
RM 12.00 -20%
Steamed Squid Ink Bun with Salted Egg Custard (3 pcs)
RM 12
RM 15.00 -20%
Steam Red Bean Bun (3 pieces)
RM 5.6
RM 7.00 -20%
Camomile Tea
RM 19.2
RM 24.00 -20%
Chilled Pineapple Juice
RM 13.6
RM 17.00 -20%
Coke
RM 14.4
RM 18.00 -20%
Earl Grey Tea
RM 19.2
RM 24.00 -20%
English Breakfast Tea
RM 19.2
RM 24.00 -20%
Evian Water
RM 19.2
RM 24.00 -20%
Fresh Green Apple Juice
RM 17.6
RM 22.00 -20%
Fresh Watermelon Juice
RM 17.6
RM 22.00 -20%
Ginger Ale
RM 14.4
RM 18.00 -20%
Green Tea
RM 19.2
RM 24.00 -20%
Mineral Water
RM 19.2
RM 24.00 -20%
Red Wine by Bottle
RM 112
RM 140.00 -20%
Red Wine by The Glass
RM 28
RM 35.00 -20%
Soda
RM 14.4
RM 18.00 -20%
Sparkling Water
RM 19.2
RM 24.00 -20%
Sprite
RM 14.4
RM 18.00 -20%
White Wine by Bottle
RM 112
RM 140.00 -20%
White Wine by The Glass
RM 28
RM 35.00 -20%
Zero Coke
RM 14.4
RM 18.00 -20%
Milo
RM 19.2
RM 24.00 -20%
Hot Chocolate
RM 19.2
RM 24.00 -20%
Images used are for illustration purposes only
Orders and payments made are non cancellable/refundable
Nett prices quoted in Ringgit Malaysia, inclusive of any prevailing government taxes
Items and prices are subject to changes without prior notice
Otak-Otak Muar (4 pieces)
Mekong Bread Toast (6 pieces)
Char-Grilled Spicy Teriyaki Chicken Chop
Char-Grilled Lamb Cutlets
Char-grilled Australian Rib Eye Steak (220gm)
Char-grilled Australian Beef Tenderloin (220gm)
Char-Grilled Lamb Kebab Skewer
Old Style Hainanese Chicken Chop
Healthy Double Cheese Burger
Signature Nasi Biryani Gam
Cendol with Coconut Ice Cream
Chocolate chip cheese cake 1kg
Chocolate brownies cake 1kg
Sugar Friendly Chocolate Chip Cookies
Multi - Grain bread @ 500gms
Sweet & Sour Chicken with Egg Fried Rice
Sichuan Style Hot and Sour Soup
Sweet and Sour Fish with Egg Fried Rice
Stir-fried Kung Po Chicken with Egg Fried Rice
Wok-fried Tiger Prawns with Salted Egg Yolk and Butter Milk, served with Egg Fried Rice
YangZhou Fried Rice with Shrimp and BBQ Chicken
Steamed Siew Mai Emperor Style (3 pcs)
Steamed Prawn Dumpling with Coriander (3 pcs)
Steam BBQ Chicken Bun (3 pcs)
Steamed Glutinous Rice with Chicken and Black Mushroom
Steamed Squid Ink Bun with Salted Egg Custard (3 pcs)
Steam Red Bean Bun (3 pieces)
Hot Coffee
Chilled Mango Juice
Chilled Guava Juice
Fresh Orange Juice
Veggie Roll (3 piece)
Homemade vegetarian spring rolls with Vietnamese mint and chili dip
Dorsett Wings (3 piece)
Deep-fried chicken wing marinated with garlic, lemongrass and onion
Loaded Potato (2 pieces)
Baked potato skin topped with mildly spicy minced chicken and melted cheese
Otak-Otak Muar (4 pieces)
Deep-fried fish otak-otak served with pickled vegetable
Mekong Bread Toast (6 pieces)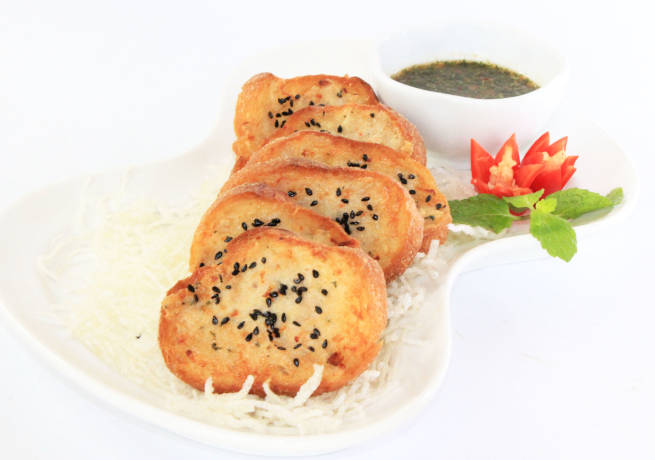 Deep-fried bread stuffed with chicken & seafood paste served with mint chili dip
Dorsett Mixed Platter
Chicken Wings (2 pieces ), Veggie Roll (2 pieces), Otak Otak ( 2 pieces ) and Mekong Bread Toast ( 2 pieces ) served with Chili Dip
Soto Madura
Indonesian chicken broth infused with traditonal herbs
Dorsett Mushroom Soup
Cream of shiitake and button mushrooms served in a hollow bun
Tom Yum Goong
Thai spicy and sour prawn soup infused with lemongrass & kaffi Leave
Oxtail Soup
Oxtail broth traditional style
Mesclun Salad
Mix garden salad tossed with choice of thousand island, Italian, French or vinaigrette dressing
Nicoise Salad
Black & Green Olives, French Bean ,Tuna , tomatoes and hard-boiled egg toast with French dressing
Caesar Salad
Romaine lettuce tossed with Caesar dressing and croutons, sprinkled with grated Parmesan cheese
Add on
:
- Grilled Cajun Chicken
- Smoked Salmon
Classic Fish and Chips
Deep-fried snapper fillet served with French fries, fresh garden green salad, coleslaw and tartar sauceand chili dip
Char-Grilled Spicy Teriyaki Chicken Chop
served with French fries and roasted vegetables
Pan-Fried Salmon
served with lemon butter cream and pomelo sauce, mashed potatoes and roasted vegetables
Char-Grilled Lamb Cutlets
served with garlic mash potatoes, roasted vegetables and home=made mint sauce
Char-grilled Australian Rib Eye Steak (220gm)
served with French fries, roasted vegetables and forest mushroom sauceserved with mint chili dip
Char-grilled Australian Beef Tenderloin (220gm)
served with French fries, roasted vegetables and Sarawak black pepper sauce
Char-Grilled Lamb Kebab Skewer
served with Mandi rice, salad with mint and lemongrass cream dressing and grilled vegetables
Old Style Hainanese Chicken Chop
marinated deep-fried chicken with onion and green peas potato gravy served with French fries and vegetable
Margherita
Tomato based pizza topped with sliced tomatoes, basil leaves and mozarella cheese
Mahalo
Tomato based pizza topped with smoked chicken, pineapple and mozzarella cheese sauce
Pepperoni
Garlic and tomato based pizza topped with beef pepperoni, pineapple, fresh herbs, chilli flakes, parmesan and mozzarella cheese
Smoked Salmon
Tomato based pizza topped with smoked salmon, basil leaves and mozzarella cheesewith French fries and vegetable
Aglio e Olio
A choice of spaghetti, fettuccine or penne cooked with olive oil, garlic and dried red chili flakes
Bolognaise
A choice of spaghetti, fettuccine or penne served with minced beef with tomato based sauce infused with garlic, onions and Italian herbs
Alfredo
A choice of spaghetti, fettuccine or penne served with smoked chicken slice with a cream based sauce
Marinara
A choice of spaghetti, fettuccine or penne served with assorted seafood alongside a tomato based sauce infused with garlic, onions and basil
Dorsett Club Sandwich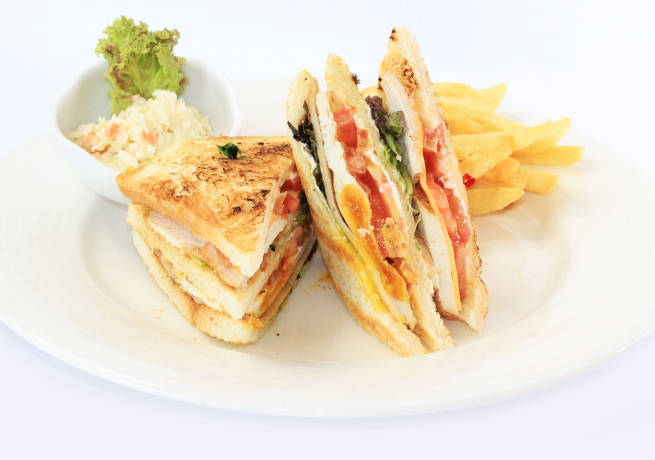 Smoked chicken breast, grilled turkey slice and fried egg served with a side of coleslaw and French fries
Healthy Double Cheese Burger
Sesame green tea bun with char-grilled beef or chicken Pattie, sautéed onions, gherkin and melted cheddar cheese with a side of coleslaw and fries
Aloha Chicken Burger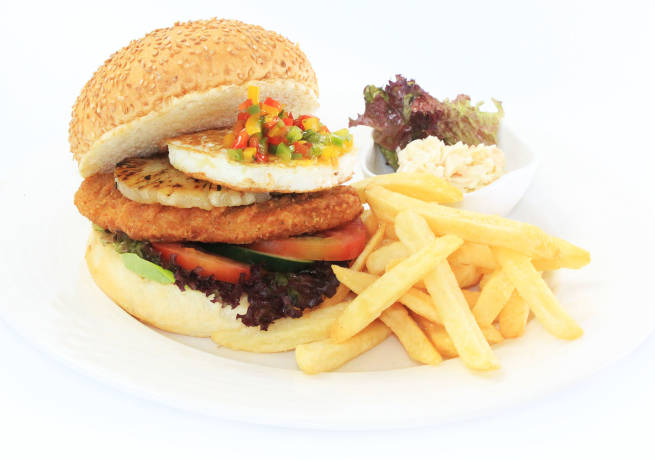 Crispy chicken pattie with grilled pineapple topped with egg and tomato salsa sauce served with fries and coleslaw
Dorsett French Toast
Smoked chicken toast with cheese sandwiched and coated with egg. pan-fried till golden brown. Served with French fries and coleslaw
Grand Mee Mamak
Yellow noodle stir-fried with Chef's secret sauce, chicken, squid, prawn fritter, bean curd, bean sprouts, choy sam and egg topped with marinated tiger prawn
Dorsett Char Kway Teow
Flat rice noodle fried with chicken, prawn, squid, bean sprouts, egg and chives
Hainanese Chicken Rice
Roasted or boiled chicken served with homemade fragrant rice and clear chicken broth
Nasi Lemak
Coconut infused rice served with ayam goreng berempah, squid sambal, hard-boiled egg, fried anchovies, roasted peanuts and cucumber
Cantonese Noodle
Stir-Fried your choice of noodle -flat rice noodle ,meehoon, wantan noodle or Yee Mee in Egg Gravy Sauce with prawn, chicken, squid and choy sam
Nasi Goreng Dorsett
Fried rice accompanied with chicken wing , pickled veggies, prawn crackers and fried egg
Signature Nasi Biryani Gam
Fragrant Malay rice served with chicken or lamb accompanied with lentil curry and pickled fruit
Satay by the dozen
Traditional char-grilled chicken or beef skewers served with spicy peanut sauce, compressed rice, onions and cucumber
Chinese Style Macaroni
Stir-Fried macaroni with diced chicken & prawn with red &green pepper and onion
Sweet and Sour Chicken
Vegetarian chicken served with steamed rice, pickled veggies, vegetable cutlet and papadom
Stir-fried Noodle
Flat rice noodle fried with bean curd, mushroom, capsicum, carrot and bean sprout
Braised Bean Curd
Braised soy bean curd with mushroom, sweet beans, cauliflower and carrot served with steamed rice
Meat Free Burger
served with French fries and side salad
Mixed Fruit Platter
Mango jelly served with plain yoghurt, cream, coconut milk and fresh mango
Sago Gula Melaka
Sago served with palm sugar, coconut milk, strawberries and coconut ice cream
Creme Brulee
Chilled creme brulee topped with fresh berries
Chocolate Brownie
Warm chocolate walnut brownie topped with Vanilla ice cream and chocolate sauce
Cendol with Coconut Ice Cream
Iced sweet dessert of green rice flour jerry, coconut milk and palm sugar syrup
Tiramisu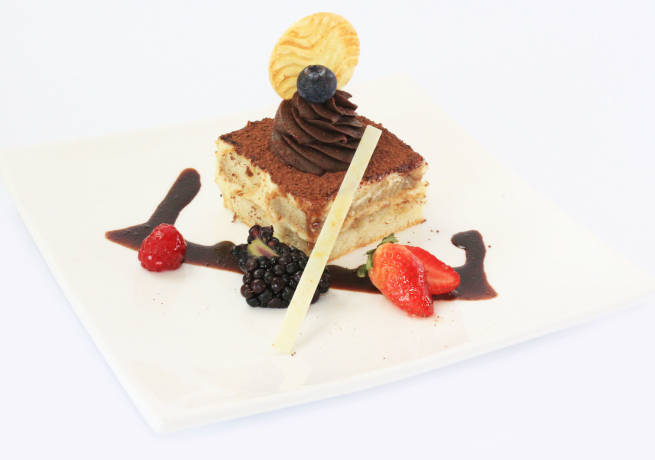 Layered vanilla sponge cake with coffee syrup, mascarpone cheese, buttercream and chocolate sauce
Cheesecake
Baked cream cheese with cookie crumble base drizzled with raspberry sauce
Red velvet cake 1kg
Plain cheese cake 1kg
Chocolate chip cheese cake 1kg
Chocolate moist cake 1kg
Carrot cake 1kg
Chocolate brownies cake 1kg
Sliced Chocolate Cake
Sliced Cheese Cake
Sambal Cookies
Chocolate Chip Cookies
Chocolate Cookies
Sugar Friendly Chocolate Chip Cookies
White bread  @ 1kg
(30 slices per loaf)
Wholemeal bread @1kg
(30 slices per loaf)
Sovital bread @ 500gms
Iced Milo
Farmer bread @ 500 gms
Iced Latte
Olive bread @ 500gms
Nescafe Ice
Multi - Grain bread @ 500gms
Iced Lemon Tea
French Baguette @ 400gms
Sweet & Sour Chicken with Egg Fried Rice
Serves 1 to 2 persons
Sichuan Style Hot and Sour Soup
(Serves 1-2 persons)
Sweet and Sour Fish with Egg Fried Rice
(Serves 1-2 persons)
Stir-fried Kung Po Chicken with Egg Fried Rice
(Serves 1-2 persons)
Wok-fried Tiger Prawns with Salted Egg Yolk and Butter Milk, served with Egg Fried Rice
(Serves 1-2 persons)
YangZhou Fried Rice with Shrimp and BBQ Chicken
(Serves 1-2 persons)
Steamed Siew Mai Emperor Style (3 pcs)
Steamed Prawn Dumpling with Coriander (3 pcs)
Steam BBQ Chicken Bun (3 pcs)
Steamed Glutinous Rice with Chicken and Black Mushroom
Steamed Squid Ink Bun with Salted Egg Custard (3 pcs)
Steam Red Bean Bun (3 pieces)
Camomile Tea
Chilled Pineapple Juice
Coke
Earl Grey Tea
English Breakfast Tea
Evian Water
Fresh Green Apple Juice
Fresh Watermelon Juice
Ginger Ale
Green Tea
Mineral Water
Red Wine by Bottle
Red Wine by The Glass
Soda
Sparkling Water
Sprite
White Wine by Bottle
White Wine by The Glass
Zero Coke
Milo
Hot Chocolate
Tea
Your Cart
Product
Quantity
Amount
No items in cart
Total
RM 0
You must order a minimum of 0 main items / vouchers